Kalush Orchestra tour in North America
Community Event
Begins on Sun, Nov 26, 2023 8:00 PM
---
Event Description
Kalush Orchestra for the third time will come with a big tour to the USA and Canada. And this time, in addition to a bright show on the stage, the group gathers talented Ukrainians and makes its show even more vivid and unpredictable. Everyone can make a cover of their favorite song by Kalush Orchestra."Yo! We decided to make our third tour in the USA even cooler. If you want to light up with us on stage, make covers of our songs, upload to social networks with the hashtag #powercoverKO. The authors of the best covers will be able to get on stage and sing their favorite song with us!"– comment the frontman of the group Oleh Psyuk.
Concerts in North America supporting Ukraine are already becoming a good tradition for the Kalush Orchestra. After the enchanting victory at Eurovision 2022, the group toured American cities twice. In the fall of 2022, 18 concerts were played in just three weeks.
For the second time, Kalush Orchestra visited the USA for a new concert tour and a performance at one of the largest and most prestigious American festivals SXSW in Austin, Texas. It was in Austin that the band met the popular American rapper, performer of the hit song "Billie Eilish", Armani White. And also in April 2023, Kalush Orchestra presented a feat with Canadian rapper bbno$ called Ushme Uturbe.
In 2022, the band raised an incredible 60 million hryvnias ($1.6 million) to help Ukraine, calculations for 2023 are still underway
Tickets for the new tour in November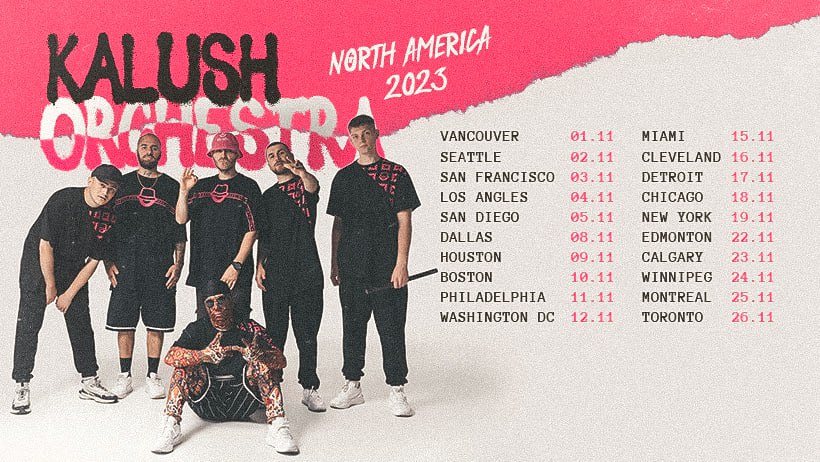 ---
---