Ukrainian Independence Day 2018
Promoted by UCC Toronto
Begins on Sat, Aug 18, 2018 10:00 AM
---
---
---
Event Description
UKRAINE'S INDEPENDENCE DAY AND "100 YEARS OF STRUGGLE FOR FREEDOM
Plan for a full day of fabulous FOOD, FUN and FESTIVITIES for all ages. Come and join us for North America's largest and the 27th annual celebration of Ukrainian Independence Day on Saturday, August 18, 2018 in Centennial Park, Toronto, from 10:00 in the morning to 11:00 at night.
Enjoy the outdoor stage show at 1:00 pm featuring the energetic and beautiful Ukrainian dancers and top vocalists. Indulge in the food court, beverage gardens, market place, children's play centre and then dance the night away at the outdoor Zabava. The event is Hosted by the Ukrainian Canadian Congress-Toronto Branch.
The theme of this year's show is "100 years of Struggle for Freedom", with the stage show starting at 2:00. Bring your appetite, as delicious Ukrainian meals and snacks will be available from Golden Lion, Natalie's Kitchen, Vatra Cheese & Deli and Wisla.
Be sure to wear your vyshyvanka or Ukrainian jewelry, or visit our vendors to buy new ones! Vendors will include:
Ganna Sokol – Ukrainian Embroidery and accessories
Gerdan Toronto – Ivanna Bodnar
Hemon Peter – Honey
Beaded Jewellery by Darka
Loncame International – socks & accessories
Lypa Designs – blouses, shirts, yoga bags, purses, mugs, tea sets
Orko Design Cor. – ukrainian books, children books
Ukrainian Gift Shop – CDs, Embroidery, Souvenirs, Clothing
Skrynia Boutique Embroidered blouses & accessories
TM "Skyba" – national ukraininan dresses
Stylmashenko – Gerdans
Svitlanah.com – Ukrainian women's and children's embroidery
Unheated honey -Victor Pokhodoun
Alex Taraiev – Investor's Group Financial Services Inc.
Red, Black and White authentic embroidery, boho chic clothing and accessories
Crane Linen – embroidery
Coats made in Ukraine
Конґрес Українців Канади, відділ Торонто, запрошує вас на святкування 27-ї річниці проголошення Незалежності України та 100-років визвольної боротьби за незалежність України.
Субота, 18-го серпня, у Centennial Park, Etobicoke. Початок – 10:00 ранку. Концерт розпочинається о 1:00 по обіді.
Насолоджуйтесь своїми улюбленими: протягом цілого дня чудова українська їжа, напитки, традиційний "Ярмарок". Також святковий концерт з провідними виконавцями та танцювальними колективами. У дитячому кутку – різноманітні розваги та активності для дітей. Для любителів шахів – шахові турніри. Справді – буде щось для кожного!
Приходьте на забаву та танці під захоплюючі ритми музичного гурту. Ваша пожертва при вході допомагає зберегти цю щорічну традицію реальністю. Побачимося у суботу, 18-го серпня.
---
Event Location
Centennial Park
Toronto, Ontario

---
Event Gallery
---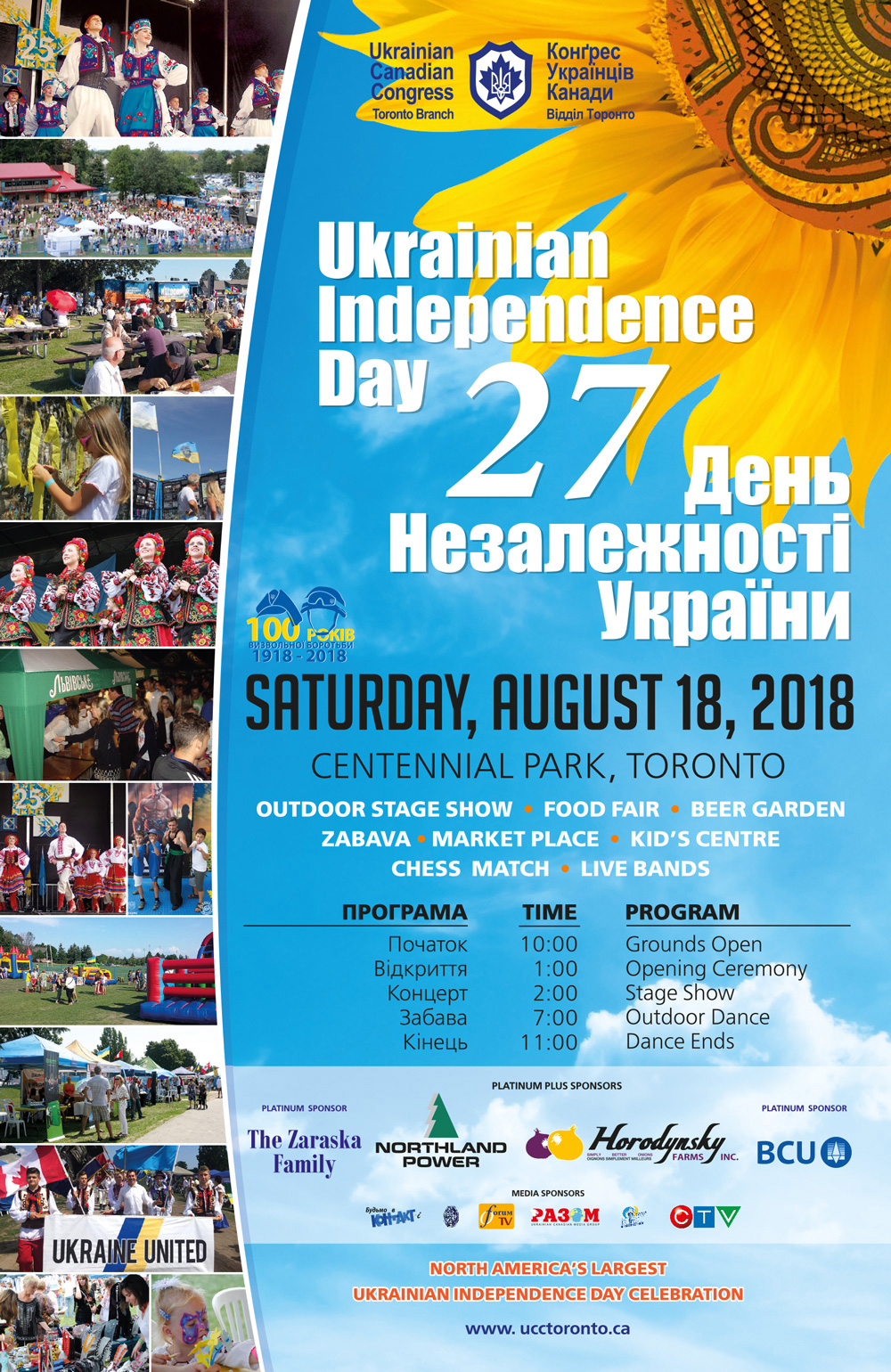 Platinum Plus
| | |
| --- | --- |
| | Northland Power |
| | Horodynsky Farms Inc. |
Platinum
| | |
| --- | --- |
| | Buduchnist Credit Union |
| | The Zaraska Family |
| | TransAm Carriers Inc. |
Gold
| | |
| --- | --- |
| | Halenda's Meats |
| | Caravan Group of Companies |
| | Ukrainian Credit Union |
| | Meest Corporation |
| | The Huculak Foundation |
| | Bitter Harvest |
Silver
| | |
| --- | --- |
| | AA Floors & More |
| | Shevchenko Foundation |
| | New Canadian Drain & Plumbing |
---