Remembrance Day - День Пам'яті
About this Initiative
---
Конґрес Українців Канади, відділ Торонто запрошує взяти участь у Дні Пам'яті, який відбудеться в суботу, 4-го листопада 2023 р., о 3:00 годині по полудні, в Українсько-Канадському Меморіальному Парку (Scarlett Road, на північ від Eglinton Avenue West). Церемонія розпочнеться із соборної панахиди, після чого заплановано зложення вінків біля пам'ятника Невідомого воїна.
Цією церемонією ми будемо вшановувати всіх канадійців, що загинули у всіх конфліктах, в яких Канада брала участь, а також канадійців українського походження, які зробили свій внесок у війську Канади. Ми також вшануємо жертовність наших братів і сестер-солдат, які в даний час борються в Україні.
В умовах, коли в Україні триває війна, важливо, щоб ми вшановували наших загиблих українських воїнів та ветеранів.
* * * *
The Ukrainian Canadian Congress Toronto Branch cordially invites you to our Remembrance Day commemoration which will take place at the Ukrainian Canadian Memorial Park (on Scarlett Road, just north of Eglinton Avenue West) on Saturday, November 4, 2023, at 3:00pm. The ceremony will commence with a memorial service, followed by the "Last Post", "Reveille", and laying of wreaths.
This Remembrance Ceremony will honour and commemorate our Canadian fallen in all conflicts in which Canada has participated, as well as Canadians of Ukrainian descent who have contributed to Canada's military. We will also take a moment to recognize the sacrifices of our brethren soldiers currently engaged in Ukraine.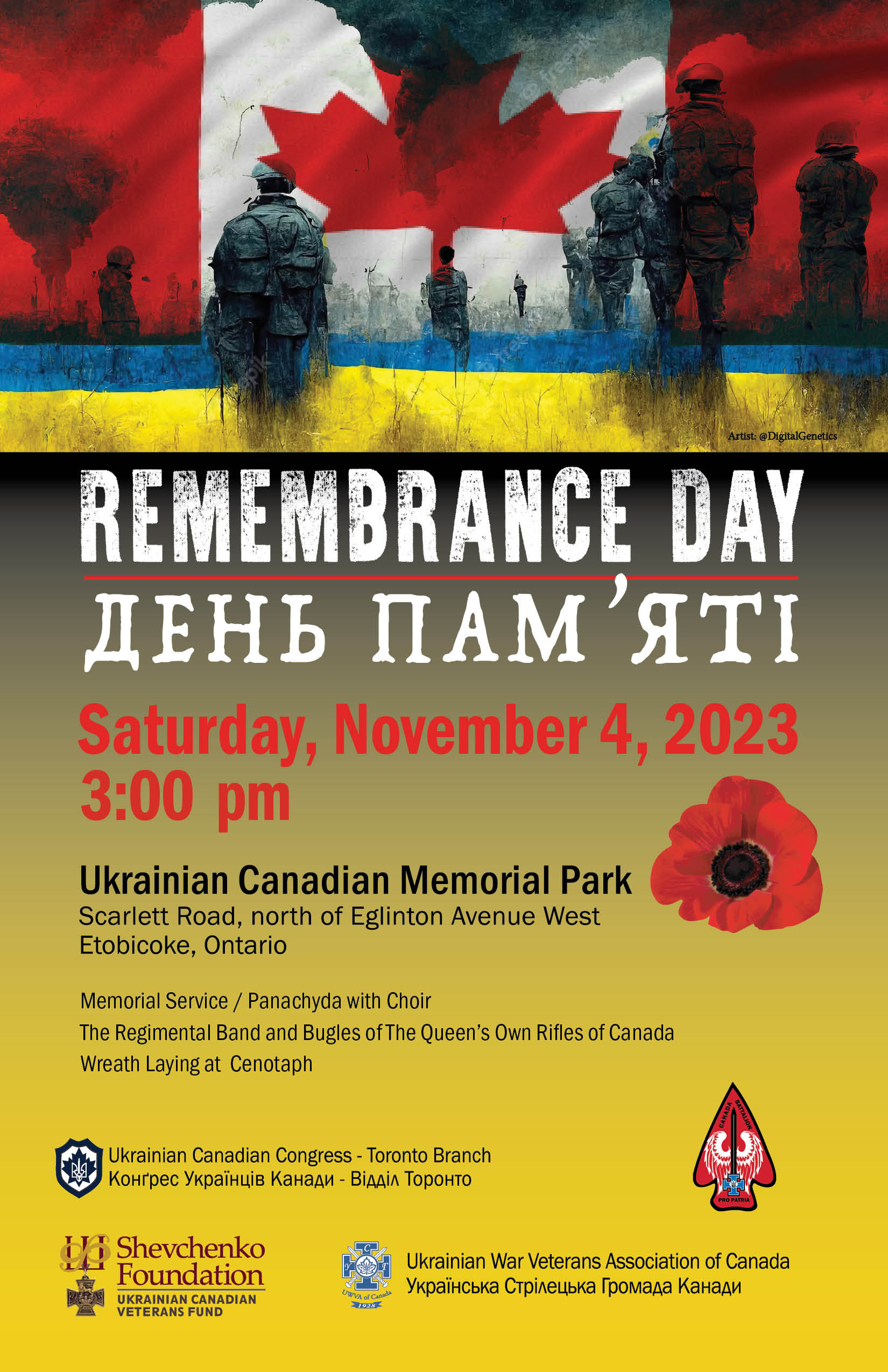 ---
Project Gallery
---
---
Related News
---
---