Back to Profile
---
Traditional Ukrainian Spring Songs with Marichka Marczyk
Promoted by St. Demetrius (Ukrainian Catholic) Development Corp./Ukrainian Canadian Care Centre, St. Demetrius Residence
Begins on Thu, Apr 8, 2021 3:00 PM
Ends on Thu, Apr 8, 2021 4:00 PM
Online (Ukrainian Canadian Care Centre), 60 Richview Rd, Etobicoke
Event Description
Experience the Magic of Spring with Folklorist Singer Marichka Marczyk. Watch, Learn, and Sing Along!
• Learn about the uniqueness of the traditional Ukrainian Spring Rituals – practices and symbolism
• Listen to authentic archival recordings of traditional Ukrainian ritual songs (Vesnyanki and haivky) from different ethnic regions of Ukraine
• Watch spring dances
• Watch live Marichka singing vesnyanki
• Learn and sing along to a traditional Ukrainian spring song
Marichka Marczyk is a singer with the Ukrainian Canadian Balaklava Blues and Lemon Bucket Orchestra, an ethnomusicologist and an author of the "Folk Songs of Ukraine" online encyclopedia, which includes authentic songs collected through folklore expeditions in Ukrainian villages for over 20 years.
Proudly Sponsored by Cardinal Funeral Homes and Organized by the Ukrainian Canadian Care Centre
Social Media
---
Event Poster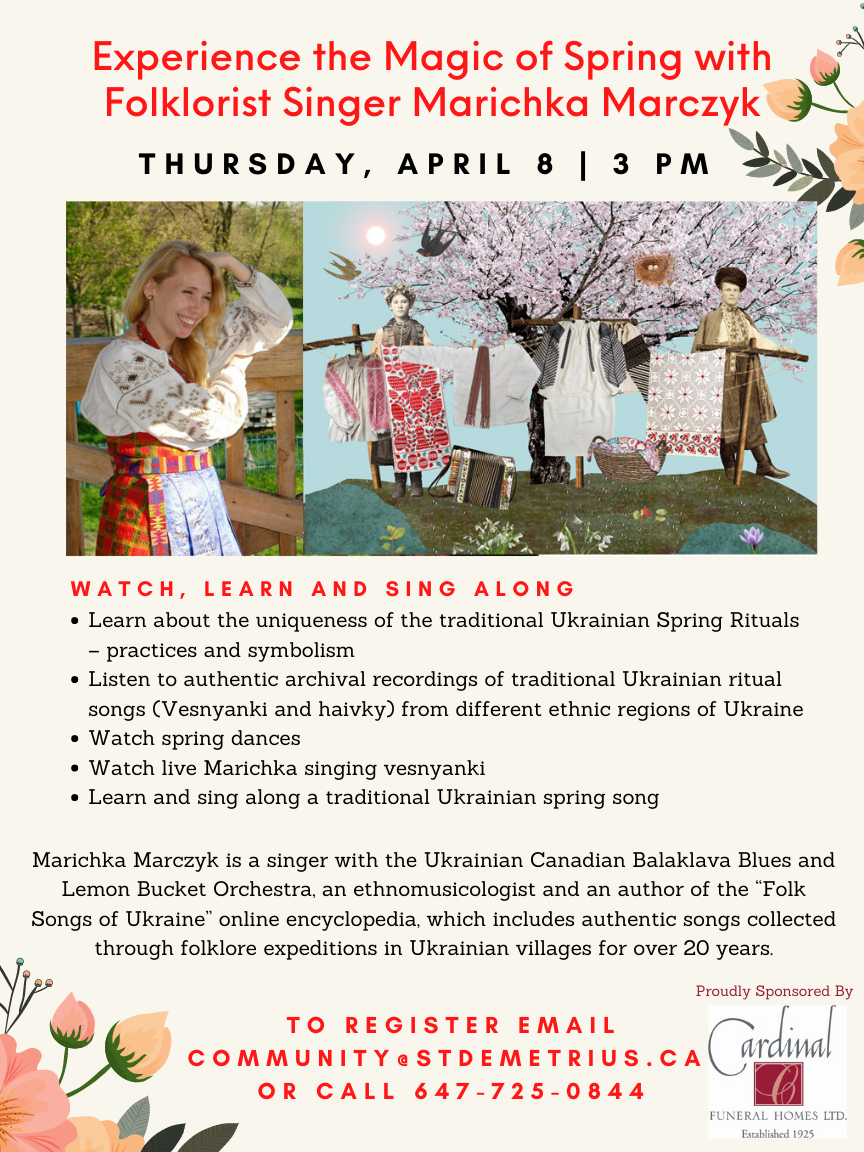 ---