Back to Profile
---
ICONS - A WINDOW TO HEAVEN -- POSTPONED
Promoted by Ukrainian Canadian Art Foundation
Begins on Sun, Mar 22, 2020 2:00 PM
Ends on Sun, Mar 22, 2020 5:00 PM
Event Description
March 22 – April 12, 2020 at the KUMF Gallery. "ICONS - A WINDOW TO HEAVEN" -Art exhibition by Pavlo Lopata.https://kumfgallery.com/pavlo-lopata-75th-anniversary-celebration-march-22-april-12-2020/https://www.facebook.com/events/910388699375616/https://www.facebook.com/events/184718192736852/
Ukrainian Canadian Art Foundation cordially invites You to the art exhibition of 75 icons written by Pavlo Lopata. * The exhibit opening will be held on Sunday, March 22, 2020, 2 - 5 pm at the UNF "Trident Banquet Hall", 145 Evans Ave., Etobicoke, ON. Your presence at the vernissage, celebrating Pavlo's 75th Birthday and his 60 years of artistic creativity, would be most welcome.*Special performance by Ukrainian folk singers "Kalendar". * Exhibition continues to April 12, 2020 at the KUMF Gallery.
KUMF GALLERY - ҐАЛЕРІЯ КУМФ:145 Evans Ave., Suite #101, Etobicoke, ON, M8Z 5X8 416-766-6802 info@kumfgallery.com www.kumfgallery.comGallery hours: Thurs. & Fri. 1-6 pm, Sat.& Sun. 1-5 pm.
22 березня - 12 квітня 2020 р. в Ґалерії КУМФ.*ІКОНИ - ВІКНО ДО НЕБА* -Мистецька виставка Павла Лопати.
Канадсько-Українська Мистецька Фундація ласкаво запрошує на виставку 75-ти ікон Павла Лопати.* Урочисте відкриття відбудеться в неділю, 22-го березня 2020 р. від 2 до 5 год. п.п. в приміщенні Банкетного Залу УНО "Тризуб" - 145 Evans Ave., Etobicoke, ON, M8Z 5X8. Ваша присутність на вернісажі, щоб відсвяткувати 75-річчя Павла і 60 років його мистецької творчості була б бажаною.*Спеціальний виступ фолкльорного гурту "Календар". * Виставка триватиме до 12-го квітня 2020 р. в Ґалерії КУМФ.https://kumfgallery.com/artists/contemporary/pavlo-lopata/
Social Media
---
Event Poster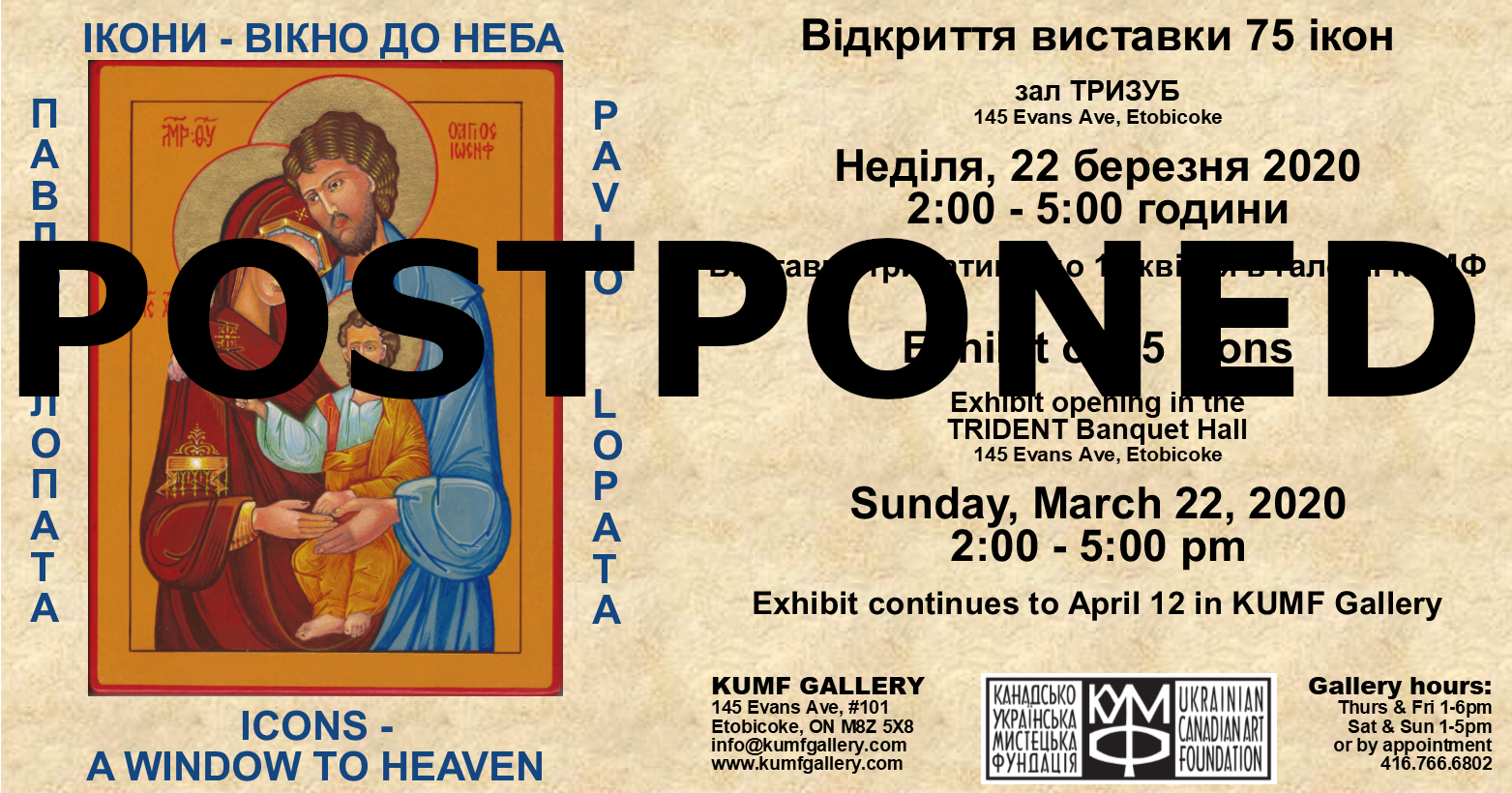 ---
Featured Image