UKRAINE NEEDS YOU NOW! UKRAINE IS AT RISK!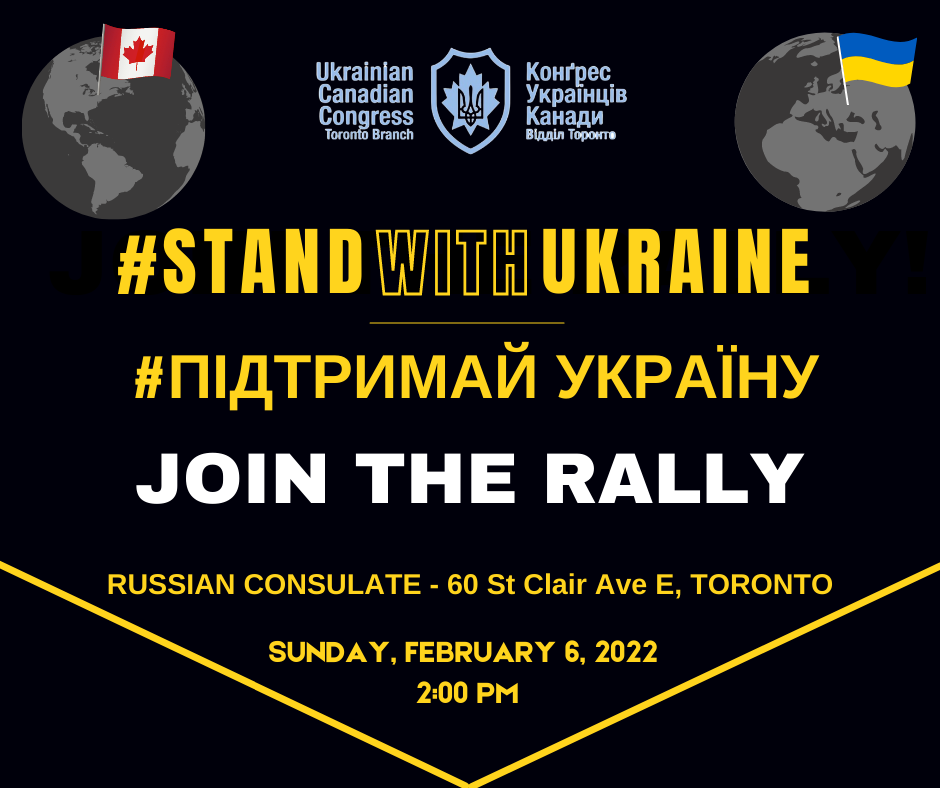 UKRAINE IS AT RISK! Young men are sitting in trenches ready to defend Ukraine as 100,000 Russian soldiers are on their border. Here's what you can do to help:
1. ATTEND the RALLY!
2. SHARE this email, the poster below, and include " #StandWithUkraine " on your Social media channels.
3. FORWARD this email to your personal email lists.
4. INVITE your friends to the UCC-Toronto FB event – SWU Rally. * Instructions below
5. ENGAGE on Social Media >>> Share and Comment or at least Like – every post you see about this topic – this will escalate the exposure.
6. WRITE to your MP today. ** Instructions below
* Facebook: 1) please click Going at the event page here https://www.facebook.com/events/485838679761220
2) invite your Facebook friends to the event page: upper right corner of the event page, click Invite, choose your contacts from the list and click Invite3) publish the poster and/or the link to our Facebook event page on your personal Facebook profile
Instagram: 1) please publish the poster on your personal account and call your friends to join the rally in the text section below the image
2) if you post stories, please share the poster via Facebook and/or Instagram Stories
Twitter and other social media: please share the poster via any possible channel and consider sending personal emails to your community contacts with the announcement.
** The Ukrainian Canadian Congress (UCC) calls on all Canadians to contact their Member of Parliament today and tell them they support Canada providing Ukraine defensive weapons.
Add your voice to the growing calls for Canada to join our allies and provide Ukraine with defensive weapons.
What you can do: Send your Member of Parliament an email calling for Canada to provide Ukraine with defensive weapons
MPs emails are Firstname.Lastname@parl.gc.ca
You can find your MP by postal code here: https://www.ourcommons.ca/members/en
An example of an email you can send:
"Russia invaded Ukraine eight years ago, and the threat of a further Russian invasion grows every day. The Ukrainian people need Canada's support in defending their country today. The US, UK, Baltic States, Poland, and other allies are already providing Ukraine with defensive weapons. As your constituent, I urge you to support Canada joining our allies and providing Ukraine with defensive weapons now."
Thank you for your valued assistance,
Nadia Prokopiw
UCC-Toronto, Director-Media Relations
---